information
lectures:
tuesdays and fridays, 9.25am-10.40am, in room 232 NE

computer account:
You need to have access to a computer and the Internet for this class.
textbook: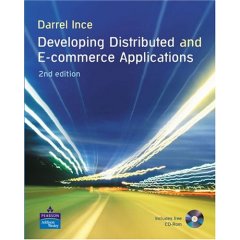 Developing Distributed and E-Commerce Applications (2nd edition), by Darrel Ince. publisher: Addison Wesley (2004).
ISBN: 0-321-15422-3
Here it is on Amazon. It will also be available at the college bookstore.
course description:
This course covers how the Internet can be used to conduct business. Topics covered include: Internet hardware and software, tools and technologies for creating an interactive Web site, characteristics of successful Web sites, new technologies, the future of the Internet, Web communication strategies, security issues, legal and ethical issues, Internet information services, data mining, global E-commerce. Case studies of successful E-commerce businesses will be examined. This course is the same as Business 31.5.
prerequisites:
Core Studies 5 or 5.1 or Computer and Information Science (CIS) 1.5.
assessment:
Your course grade will be made up of the following components, out of 100 points:
5 homework assignments -- total of 25 points
(5 pts each)
research project -- total of 30 points
(oral presentation = 5 pts, web program = 15 pts, written report = 10 pts)
3 exams -- total of 45 points
(15 pts each)