---
Attila Máté's Home Page
---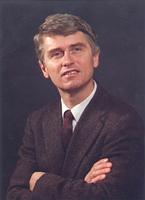 Attila Máté
Department of Mathematics
Brooklyn College
2900 Bedford Avenue
Brooklyn, NY 11210-2889
USA
Email address:

In sending email, a clear descriptive subject line is very important. In view of the large number of unsolicited commercial emails, an email without a clear descriptive subject line might be discarded without being read. Email should be written in plain text. Email containing html is often discarded without being read. Email attachments are opened only in case the email contains a clear plain text explanation as to what the attachments are about. The email address is given as an image file that can easily be read by humans, but it is hoped that machines will have some difficulty, thereby making it harder for machines to add my email address to commercial email lists.


---

    You may click on the link next to read about my notes Introduction to Open Computing. A link to download the notes in pdf form is given there.

    You may also read about my notes Supplementary Notes on Introduction to Analysis. A link to download the notes in pdf form is given there.

    Here you find my notes Introduction to Numerical Analysis with C Programs in pdf form (size is about 1.65 MB).

    Miscellaneous writings, usually supplementary material for courses I teach, can be found at miscellaneous notes. The items here usually have descriptive names -- at one point I will probably write up a guide as to what each item is about.

    You may find the mathematics Prize Exams given to undergraduates at Brooklyn College here for the years 2003--2015; you may also find the solutions of these there. More information about the Prize Exams, see here.

    The TeX source files for the spring 2006 precalculus final examination can be found by clicking here, Your main interest in these files might be issues involving using TeX in Linux, and the style file used for typesetting the exam. You probably want to start by reading the file readme. In this file, it is explained how to set up your TEXINPUTS and TEXFORMATS parameters so that TeX can take inputs from a directory called texinputs in your home directory in addition to all the other places TeX was already taking inputs from.

    A number of pictures from my trip to Hungary in the summer of 1998 are enclosed. Two larger pictures show me with one of my sisters in law, Ágnes, one sailing on Lake Balaton, another one at a rural wedding. There are also 10 smaller pictures.


Last updated: Wed Mar 4 23:08:21 EST 2015.