Welcome to the Logic Based Systems Lab
Some Recent Publications
Here you can find out more about the research done in the lab


Recently Published Books
Optimization and Computational Logic


This book is published by John Wiley & Sons.
You can order the book by phone: (800) 879-4539 or via Internet: John Wiley & Son.
The 2LP Language
Here you can find out more about 2LP

2LP Models

2LP Executables
6 versions of 2LP are currently avaliable:

Parallel and Distributed Computing at the Lab.
Many optimization problems are computationally demanding. Solving these problems often require a combination of techniques including parallelization. There are two basic methods for implementing parallelism, message passing and shared memory. Here at the Lab we use both approaches.
Message passing libraries such as PVM, MPI, and DP are used to distribute a problem over our network of workstations. This allows us to solve computationally demanding problems by using the aggregate power and memory of many computers. In effect, this creates a virtual supercomputer.

Our computing resources include three shared-memory multiprocessors. Threads are used to exploit the underlying hardware of these machines. Our multiprocessor machines run different operating systems and thus various thread implementations have been used, such as Solaris, Windows NT, and POSIX. All have been found to provide an easy way to efficiently parallelize a difficult problem.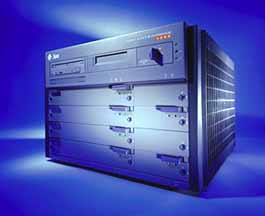 Computing Resources at the Lab.
Our resourses give us the computing power that is needed to solve the most demanding optimization problems. Here at the LBS Lab we work with some of the newest technologies. Our heterogeneous network consists of over thirty high-performance workstations running Solaris and/or Windows NT. The network includes several Sun Ultras, Pentium PCs and three Symmetric Multiprocessors:
Louis
Sun Ultra Enterprise 4000 running Solaris
14 UltraSPARC 250 Mhz CPUs
1.8 Gigabytes RAM


Houis
SMP PC running WIndows NT & Solaris
4 Pentium Pro 200 MHz CPUs
512 Megabytes RAM


Kronos
SMP PC running Windows NT & Free BSD
4 Pentium Pro 200 MHz CPUs
128 Megabytes RAM

Tutorial Slides.
CSTS Dallas 1996.
Click here to download the file in PostScript format.
CP96 Cambridge 1996.
Click here to download the file in PostScript format.
visitors since
This page is maintained by Vitaliy Grinberg